Ci spiace, ma questo articolo è disponibile soltanto in Inglese Americano. Per ragioni di convenienza del visitatore, il contenuto è mostrato sotto nella lingua alternativa. Puoi cliccare sul link per cambiare la lingua attiva.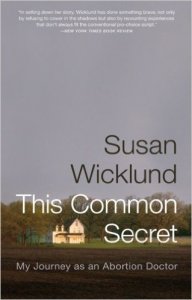 by Susan Wicklund and Alex Kesselheim
Memoir (U.S.), 288 pages
Publisher: PublicAffairs, Dec 30, 2008
ISBN-10: 1586486470
ISBN-13: 978-1586486471
In This Common Secret, Dr. Susan Wicklund chronicles her emotional and dramatic twenty-year career on the front lines of the abortion war. Growing up in working class, rural Wisconsin, Wicklund had her own painful abortion at a young age. It was not until she became a doctor that she realized how many women shared her ordeal of an unwanted pregnancy—and how hidden this common experience remains. This is the story of Susan's love for a profession that means listening to women and helping them through one of the most pivotal and controversial events in their lives. Hers is also a calling that means sleeping on planes and commuting between clinics in different states—and that requires her to wear a bulletproof vest and to carry a .38 caliber revolver. This is also the story of the women whom Susan serves, women whose options are increasingly limited.