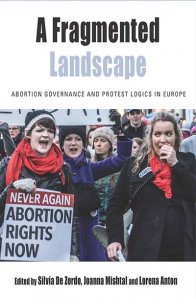 Edited by Silvia De Zordo, Joanna Mishtal, and Lorena Anton
Non-fiction (Europe), 304 pages
ISBN 978-1-78533-427-6
ISBN ebook: 978-1-78533-428-3
Publisher: Berghahn Books, December 2016
Since World War II, abortion policies have remained remarkably varied across European nations, with struggles over abortion rights at the forefront of national politics. This volume analyses European abortion governance and explores how social movements, political groups, and individuals use protests and resistance to influence abortion policy. Drawing on case studies from Italy, Spain, Norway, Poland, Romania, Russia, Sweden, Switzerland, the United Kingdom and the European Union, it analyses the strategies and discourses of groups seeking to liberalise or restrict reproductive rights. It also illuminates the ways that reproductive rights politics intersect with demographic anxieties, as well as the rising nationalisms and xenophobia related to austerity policies, mass migration and the recent terrorist attacks in Europe.