Ci spiace, ma questo articolo è disponibile soltanto in Inglese Americano.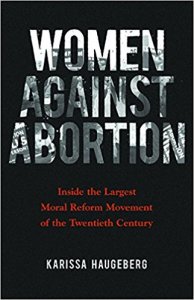 by
Karissa Haugeberg
Non-fiction (U.S.), 240 pages
Publisher: University of Illinois Press, April 3, 2017
ISBN-10: 025208246X
ISBN-13: 978-0252082467
Order:
Amazon
Women from remarkably diverse religious, social, and political backgrounds made up the rank-and-file of anti-abortion activism. Empowered by–yet in many cases scared of–the changes wrought by feminism, they founded grassroots groups, developed now-familiar strategies and tactics, and gave voice to the movement's moral and political dimensions. Drawing on oral histories and interviews with prominent figures, Karissa Haugeberg examines American women 's fight against abortion. Beginning in the 1960s, she looks at Marjory Mecklenburg's attempt to shift the attention of anti-abortion leaders from the rights of fetuses to the needs of pregnant women. Moving forward she traces the grassroots work of Catholic women, including Juli Loesch and Joan Andrews, and their encounters with the influx of evangelicals into the movement. She also looks at the activism of evangelical Protestant Shelley Shannon, a prominent pro-life extremist of the 1990s. Throughout, Haugeberg explores important questions such as the ways people fused religious conviction with partisan politics, activists' rationalizations for lethal violence, and how women claimed space within an unshakably patriarchal movement.